For Parents
Weekly Children's Classes
Tuesdays – 10:30am to 11:30am
For children ages 0 – 5, these classes are held in the meeting room at the Cooke County Library. Each week there is a different theme. The length of the program is between forty to sixty minutes. Various elements of the program include music, stories, acting, and sometimes a craft. These classes teach social skills, listening comprehension and the foundations of reading through letters, numbers and vocabulary. An adult must accompany the child(ren).
If you are interested in participating in this year round event, please contact Children's Storyhour coordinator, Kimberly Reiter at 940-668-5530. Find out who our special guest will be next week or remember the fun we have had in the past.
1000 Books Before Kindergar'd'en
"1000 Books Before Kindergar'd'en"  encourages families to read 1000 books with their child before they enter school. This program was started in September 2013.
Artwork Displays
During the school year, the Cooke County Library has local artwork from the different county schools. The displays are two weeks long. They help to brighten up the facility and promote the schools in Cooke County. This year marks the 9th year of this fun collaboration! We encourage the students, their families and other patrons, to come and look at the artwork. If you have any questions about this program you can speak to Kimberly Reiter at 668-5530.
Community Outreach Programs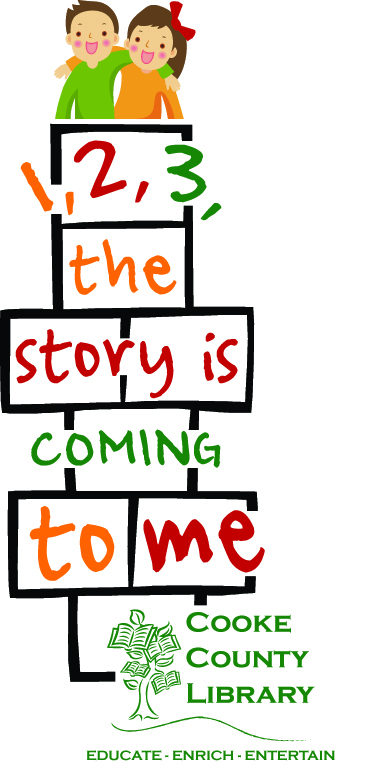 In January 2010, the Director started the "1,2,3, the Story is Coming to Me" storyhour program for local daycare centers in the Gainesville area. Starting Fall of 2011, classes at some of the local school systems have been added.
In May 2012, the Cooke County Library was awarded a grant to continue supporting the "1,2,3 the Story is Coming to Me" community outreach project. The library received $1,000 from Walmart Foundation for a Local Community Contribution Grant. This grant helps the Library to continue providing 2 storyhours a year to 7 local daycare centers & give each child in those classes a book to take home. Plus was able to now offer 2 storyhours a year to local school systems that have pre-school classes. There are 4 school systems participating.
Thank you to Walmart!
Literary LEGOs®
Literary LEGOs® is our newest project for children. The Cooke County Library was awarded a Dollar General Summer Reading Grant to begin this program for children ages 6-12. The project is currently a 6 week long program held on Wednesdays during Summer Reading.
Thank you Dollar General and Friends of the Cooke County Library!
Reading Lists
If you are looking for something new to read, we have compiled a list of books recommended for kids and teens.
Summer Reading Program
Our Summer Reading Programs have ended. We enjoyed having you participate and hope you enjoyed it too! See you next year!
Want to know who won in the Adult Program? Here you go.
Adult Summer Reading Program Grand Drawing winners are:
Margaret Harper: Applebee's gift certificate
Emily Cannon: Fuzzy's Taco Shop gift certificate
Kirk Parmer: D-Max gift certificate
Congratulations to our Grand Drawing winners and to our weekly winners!
Teen Summer Reading Program winners will be contacted and announced by Thursday, 7/31/14.
We want to thank all our sponsors for all 3 programs! The library and the participants really appreciate it!
Applebee's
Chili's
D-Max Cinema

Dieter Brothers
Fuzzy's Taco Shop
Kaden the Florist
Sonic