For Parents

Storyhour Program
Tuesdays – 10:30am to 11:30am
Each week there is a different theme and a different volunteer to lead the Storyhour. The length of the program is between forty to sixty minutes. Sometimes there's music, stories, acting, or a craft.
If you are interested in participating in this year round event, please contact Children's Storyhour coordinator, Kimberly Reiter at 940-668-5530. Find out who our special guest will be next week or remember the fun we have had in the past.
1000 Books Before Kindergar'd'en
"1000 Books Before Kindergar'd'en" is our newest program that encourages families to read 1000 books with their child before they enter school.
Artwork Displays
During the school year, the Cooke County Library has local artwork from the different county schools. The displays are two weeks long. They help to brighten up the facility and promote the schools in Cooke County. This year marks the 9th year of this fun collaboration! We encourage the students, their families and other patrons, to come and look at the artwork. If you have any questions about this program you can speak to Kimberly Reiter at 668-5530.
Community Outreach Programs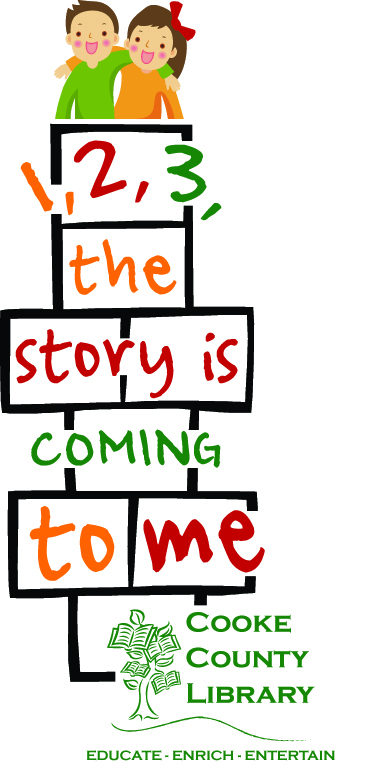 In January 2010, the Director started the "1,2,3, the Story is Coming to Me" storyhour program for local daycare centers in the Gainesville area. Starting Fall of 2011, classes at some of the local school systems have been added.
In May 2012, the Cooke County Library was awarded a grant to continue supporting the "1,2,3 the Story is Coming to Me" community outreach project. The library received $1,000 from Walmart Foundation for a Local Community Contribution Grant. This grant helps the Library to continue providing 2 storyhours a year to 7 local daycare centers & give each child in those classes a book to take home. Plus was able to now offer 2 storyhours a year to local school systems that have pre-school classes. There are 4 school systems participating.
Thank you to Walmart!
Reading Lists
If you are looking for something new to read, we have compiled a list of books recommended for kids and teens.
Summer Reading Program
Each Summer we have 3 Reading Programs for adults, teens and children. More information on the 2014 programs will be posted after January 2014.